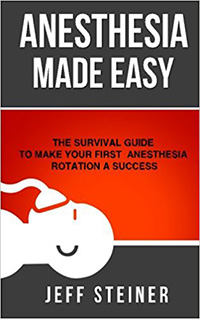 Edition 1 (2015)
Jeff Steiner
Why you need this book: Most introductory anesthesia books are too long and too complex. Where do you begin learning about anesthesia when the basic books are over 800 pages long and weigh four pounds? Even when you do read these books, how will you translate the information into something you can use in the operating room when you are first starting out? Welcome to Anesthesia Made Easy. I wrote this book to introduce you to anesthesiology. It is part education guide (to teach you the basics of anesthesia) and part survival guide (to teach you how to apply these basics while in the operating room). It includes the basics of anesthesia without getting too far into the weeds and also gives you a practical approach that will get you started moving in the right direction. New anesthesiology students struggle with which book to read and where to start. This book will give you not only a solid foundation upon which to start your career but also organize the information in such a way that you can actually use it. At under 200 pages, it is the one basic anesthesia book that you can reasonable read cover to cover quickly. If you are doing anesthesia observations or shadowing to see if anesthesia is a good fit for you, you should start with chapter 1, "How to Get the Most from Your Anesthesiology Observation." Then read chapter 4, "Anesthesiology Basic Concepts," and chapter 5, "Getting Around in the OR," to learn the culture of the OR—they will bring you a long way. If you are applying to AA or CRNA school, then read this book cover to cover before you interview. It will give you a working knowledge of the type of training you will receive. It may also help you in your interview process to give you answers to simple questions about anesthesia care. If you are an airway rotator, concentrate on chapter 19, "Airway Exam and Evaluation," chapter 7, "Basic Anesthesia Pharmacology: Medications," and chapter 24 "Adult Airway Management," chapter 25 "Pediatric Airway Management," and chapter 27 "Rapid Sequence Induction (RSI)." If you are on your first anesthesia rotation, start at the front of Anesthesia Made Easy and work your way through before you start your rotation. This book is meant to be a quick read. Bring the book with you to the operating room and take notes in the notes section. Looking for more information about anesthesiology? Check out AnesthesiaMadeEasy.com/AMZ and see what we have to offer. Praise for Anesthesia Made Easy "A concise review of the basic fundamentals of anesthesiology. Written in outline form, this book provides the essentials for anyone interested in anesthesiology. I would highly recommend for medical students, beginning anesthesia residents, AAs and CRNAs." Eugene Chung, D.O. - CA-1 Resident "Providing an introductory approach on a topic as broad and in depth as anesthesia is nearly impossible, and therefore many novices find themselves up to their elbows in thousand page textbooks not knowing where to start. Dr Steiner has successfully compiled a basic guide that provides a starting point for providers just beginning their journey into the world of anesthesia." Ryan A Sexton, RN, MSN, CRNA - Practicing CRNA "A great book for medical students and residents looking to get the most out of their anesthesia rotation! It provides useful information on airways, common anesthetic medications, and basic anesthesia theory. It also gives a small glimpse into the OR from the unique perspective of the anesthesiologist." Amy P. Woods, M.D. - Faculty Anesthesiologist
---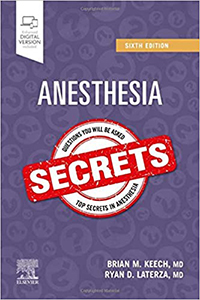 Edition 6 (2020)
Brian Keech, Ryan Laterza
For more than 30 years, the highly regarded Secrets Series® has provided students and practitioners in all areas of health care with concise, focused, and engaging resources for quick reference and exam review. Anesthesia Secrets, 6th Edition offers practical, up-to-date coverage of the full range of essential topics in the practice of anesthesiology. This bestselling resource features the Secrets' popular question-and-answer format that also includes lists, tables, pearls, memory aids, and an easy-to-read style – making inquiry, reference, and review quick, easy, and enjoyable. The proven Secrets Series® format gives you the most return for your time – succinct, easy to read, engaging, and highly effective. Fully revised and updated throughout, including protocols and guidelines that are continuously evolving and that increasingly dictate best practices. New chapters on Electrocardiogram Interpretation, Cardiac Physiology, Vasoactive Agents, Volume Assessment, Blood Pressure Disturbances, Mechanical Ventilation Strategies, Perioperative Point-of-Care Ultrasound and Echocardiography, Neuraxial Techniques, Peripheral Nerve and Trunk Blocks, Patient Safety, and Medical Ethics. Top 100 Secrets and Key Points boxes provide a fast overview of the secrets you must know for success in practice and on exams. Features bulleted lists, mnemonics, practical tips from leaders in the field – all providing a concise overview of important board-relevant content. Portable size makes it easy to carry with you for quick reference or review anywhere, anytime. Enhanced eBook version included with purchase. Your enhanced eBook allows you to access all of the text, figures, and references from the book on a variety of devices.
---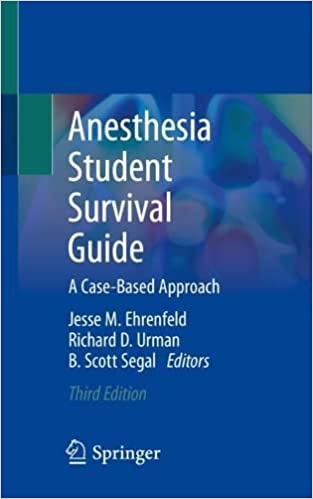 Edition 3 (2022)
Jesse Ehrenfeld, Richard Urman, Scott Segal
This comprehensive update of the previous two successful editions covers both basic and advanced anesthesia topics. These include pharmacology, procedures, monitoring, equipment, subspecialty anesthesia, safety, professionalism, pain management, and more. Chapters are concise, easy-to-read, and authored by faculty specialized in medical education. They feature case studies designed to help apply theoretical knowledge to real patient situations, as well as questions and answers. A convenient resource for medical students, student registered nurse anesthetists, and student anesthesiologist assistants in any student of anesthesia will find this unique book useful.
---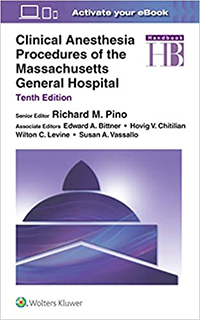 Edition 10 (2021)
Richard Pino, Edward Bittner, Hovig Chitilian, Wilton Levine, Susan Vassallo
Written by residents and attendings at the world-renowned Massachusetts General Hospital Department of Anesthesia, Clinical Anesthesia Procedures of the Massachusetts General Hospital, Tenth Edition, offers current, comprehensive, and concise guidelines on all facets of anesthesia, perioperative care, critical care, and pain management. Emphasizing the clinical fundamentals necessary for patient safety and optimal outcomes, this trusted guide provides fast answers to the most frequent problems encountered in daily anesthetic practice, making it an invaluable resource for practicing anesthesiologists and residents as well as nurse anesthetist trainees and practitioners. Focuses on the clinical fundamentals needed for the safe delivery of anesthesia and perioperative care in day-to-day practice. Uses an easy-to-scan outline format that progresses intuitively from preoperative evaluation through administration of anesthesia to perioperative issues for each subject. Updated and reorganized table of contents in addition to chapters on evaluating the patient, anesthesia for pediatric surgery and care of the neonate, non-operating room anesthesia and pain management. Includes new chapters on the basics of echocardiography, anesthesia for orthopedic surgery, anesthesia for transplant surgery and vascular access. Features appendices covering drugs and intravenous antibiotics.
---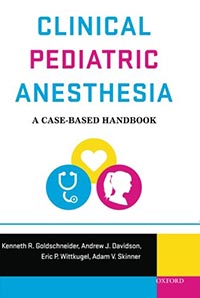 Edition 1 (2012)
Kenneth Goldschneider, Andrew Davidson, Eric Wittkugel, Adam Skinner
Through 71 case presentations, Clinical Pediatric Anesthesia covers the field of pediatric anesthesiology with a practical, point-of-care approach. Each concisely written case is organized by introduction, learning objectives, case presentation, discussion, summary, annotated references, and further reading. In a style akin to the oral board examinations, discussions are framed as questions and answers to encourage thorough analysis and understanding by the reader. Key words are highlighted to emphasize important points, and annotated references allow for further exploration of topics. Multiple approaches often exist for the care of children in any given situation, so various options are discussed when appropriate with advantages and disadvantages closely examined. Since questions posed by real-life clinical situations call for active thinking, this case-based book promotes the same evaluation and decision-making skills required of the pediatric anesthesia clinician.
---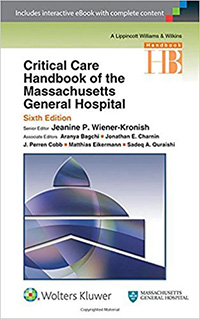 Edition 6 (2015)
Jeanine Wiener-Kronish
Now reflecting a greater focus on today's multidisciplinary approach to care, Critical Care Handbook of the Massachusetts General Hospital, 6th Edition, remains your go-to guide for practical, complete, and current information on medical and surgical critical care. The user-friendly, outline format is designed for rapid reference, providing reliable, hospital-tested protocols that reflect today's most advanced critical care practices. Key Features Heavily revised to reflect today's need to include all care providers to optimize treatment New section on Health Care Services, with chapters on handovers and transitions, long-term outcomes of ICU patients, EICU and electronic systems, quality improvement, and more New chapters on critical care management of Ebola virus disease, ECMO and ventricular assist devices, and critical care of the obstetrical patient New videos available online Complete, concise, full-color coverage of this rapidly enlarging field Convenient pocket size for on-the-go reference Now with the print edition, enjoy the bundled interactive eBook edition, which can be downloaded to your tablet and smartphone or accessed online and includes features like: Complete content with enhanced navigation Powerful search tools and smart navigation cross-links that pull results from content in the book, your notes, and even the web Cross-linked pages, references, and more for easy navigation Highlighting tool for easier reference of key content throughout the text Ability to take and share notes with friends and colleagues Quick reference tabbing to save your favorite content for future use
---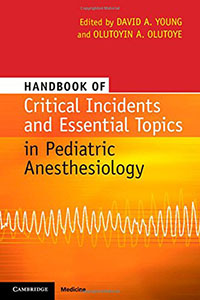 Edition 1 (2014)
David Young, Olutoyin Olutoye
This practical handbook is the first resource written by practicing pediatric anesthesiologists that provides the reader with a bedside reference for managing critical incidents and for effectively mastering the key topics within pediatric anesthesiology. The first main section of the book addresses critical incidents related to the anesthetic management of pediatric patients. Listed in alphabetical order to allow rapid retrieval by the reader, each Critical Incident follows a concise, standardized format, covering presentation, risk factors, differential diagnosis, pathophysiology, management, and prevention. The second section consists of nearly 100 Essential Topics. Bullet points, key phrases and tables provide a focused and efficient review format. Written and edited by experts from top children's hospitals, this is an essential resource for residents and fellows seeking to master the key topics, as well as a valuable quick-reference handbook for more experienced anesthesiologists caring for pediatric patients.
---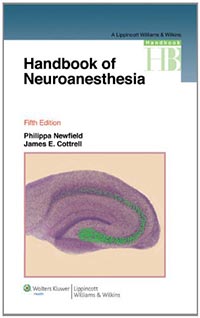 Edition 5 (2012)
Philippa Newfield, James Cottrell
Thoroughly updated, the 5th edition of the Handbook of Neuroanesthesia is an essential guide to perioperative management of neurosurgical patients. Written in an outline format for quick reference, this handbook provides detailed information about the anesthetic management of neurosurgical and neuroradiologic procedures and the intensive care of neurosurgical patients as well as those who have sustained traumatic brain and spinal cord injury. Each chapter also includes clinical cases, summaries, and chapter highlights, giving readers all the information needed to confidently put what they learned to use in real life neuroanesthesia and neurocritical care cases. FEATURES • Vital pre-operative, post-operative, intra-operative, and peri-operative techniques are extensively covered • New chapter on information technology to guide readers to online medical resources and search modalities • Website references listed in each chapter
---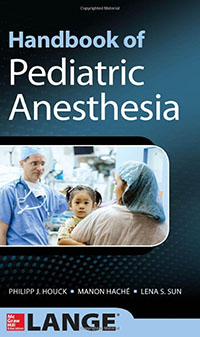 Edition 1 (2014)
Philipp Houck, Manon Hache, Lena Sun
Sharpen your clinical decision-making skills with this concise handbook of anesthesia care for children Written by the pediatric anesthesia faculty at Columbia University Medical Center, Handbook of Pediatric Anesthesia is a succinct guide to the practice of clinical anesthesia in neonates, infants, children, and adolescents. Each of the 89 chapters is devoted to a specific illness or disorder and is presented in a consistent, easy-access design. Every chapter includes a case description, perioperative considerations, anesthetic management, postoperative considerations, controversies, and surgical concerns for the illness discussed. Covering the entire breadth of the specialty, Handbook of Pediatric Anesthesia is an outstanding introductory text and an essential review for pediatric anesthesia board certification and recertification. It is especially valuable to residents and trainees as well as practicing anesthesiologists who do not manage pediatric cases on a regular basis. The book concludes with detailed appendices, including a Pediatric Critical Event Checklist and a Pediatric Drug Guide.
---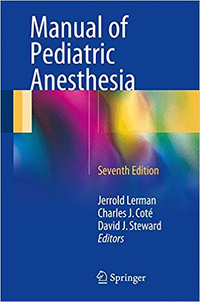 Edition 7 (2016)
Jerrold Lerman, David Steward, Charles Cote
Authored by three world experts, this is a clinically focused book on pediatric anesthesia. "The Manual", as it is known, has long dominated the market for a succinct and practical resource on administering anesthesia to children and is used by residents, general anesthesiologists, nurse anesthetists, and pediatric anesthesiologists. This new edition retains the basic structure of the book and is updated throughout. Text-heavy in the current edition, the Seventh Edition features the addition of figures to chapters where they are especially helpful (eg, the chapter on cardiovascular surgery and cardiac procedures) and makes greater use of headings to break up the text and guide reading. From reviews of the Sixth Edition:"​This is an extremely well written book that I would recommend highly to anyone involved in anaesthetizing children. It is comprehensive enough to provide an excellent reference for trainees and general anaesthetists who occasionally deal with paediatric cases, while at the same time giving valuable supplemental information for paediatric anaesthetists encountering an unusual procedure or condition. In short, this is a book that would make a welcome addition to any anaesthetist's mobile library." --Anaesthesia
---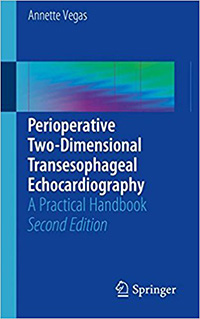 Edition 2 (2018)
Annette Vegas
Transesophageal echocardiography (TEE) is a valuable diagnostic modality now routinely used during cardiac surgery and in the intensive care unit. Increasingly, anesthesiologists, cardiologists and critical care physicians trained in TEE provide the service in both settings where they face the challenge of integrating numerous current TEE guidelines into day-to-day practice. Perioperative Two-Dimensional Transesophageal Echocardiography: A Practical Handbook, 2nd Edition has been designed to be a concise, portable guide for using TEE to recognize cardiac pathology during the perioperative period. This compact guide has a diverse appeal for anesthesiologists, cardiac surgeons and cardiologists desiring comprehensive up-to-date echocardiographic information at their fingertips. Features Updated to include 4 new chapters Now contains more than 600 full-color, high quality clinical images and illustrations Includes the most recent guidelines Retains a compact format that highlights key information Synopsis of cardiac pathology commonly encountered in cardiac surgery patients On-the-spot reference for echocardiographers with a wide range from novice to expert experience
---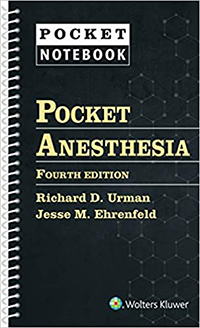 Edition 4 (2020)
Richard Urman, Jesse Ehrenfeld
Providing fast access to the most relevant, evidence-based information in all areas of anesthesiology, Pocket Anesthesia, Fourth Edition, is a practical, up-to-date resource for residents, anesthesiologists, CRNAs, and medical students—both on the wards and in the operating room. This concise handbook, now spiralbound, is designed for portability and quick reference, with information presented in a bulleted, outline format throughout. Includes a new appendix on COVID-19 considerations, updated content on ACC/AHA guideline changes, ASE/SCA views in comprehensive TEE exam, enhanced recovery after surgery (ERAS), the use of anti-coagulants and stents, new approaches to pain management, as well as a new chapter on point of care ultrasound (POCUS). Covers drugs, intraoperative problems, differential diagnosis, common disease states, patient evaluation, and anesthetic considerations for each subspecialty. Jam-packed with tables, diagrams, and treatment algorithms for easy access to key information.
---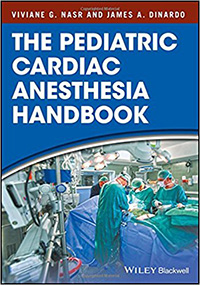 Edition 1 (2017)
Viviane Nasr, James DiNardo
Written by an expert author team at the renowned Boston Children's Hospital, USA, The Pediatric Cardiac Anesthesia Handbook provides a comprehensive yet concise overview of the anesthetic management of pediatric patients with congenital heart disease. This book is divided into two parts. The first part provides an introduction to the basic assessment of patients, including cardiovascular physiology, pathophysiology and the underlying concepts in coronary heart disease, preoperative evaluation, intraoperative management, and interpretation of cardiac catheterization data. The second part of the book addresses disorders and diseases in a templated manner covering the anatomical and physiological features, surgical therapies, anesthetic approach and postoperative management. Chapters on the heart and heart and lung transplantation consider the additional complexities of those patients and anesthetic considerations for non-cardiac surgery after heart transplantation. The anesthesiologist caring for patients with congenital heart disease faces a myriad of challenges in the perioperative management of these complex individuals. This book provides: A concise and easily referable guide ideal for use during anesthesiology residency training and fellowships. A templated chapter layout ideal for easy referral by wider members of the multidisciplinary team, such as cardiologists, cardiac intensivists, perfusionists, and surgeons. Helpful illustrations and a bulleted content for rapid reference. Guidelines on specific lesions for the pediatric anesthesiologist caring for cardiac patients presenting for non-cardiac surgery. This book is a valuable resource for all anesthesiology and cardiac critical care providers who manage patients with congenital heart disease, and an ideal study aid.
---